Buying property in Turkey is one of the most popular investment options in recent times. This is exactly why more and more people are searching for property investment options in Istanbul, the most populated city in Turkey. Of course, here are the options with the highest potential value for an apartment, a villa, or a penthouse. Today, we will try to get to know Istanbul's rising value Eyüp district closely. Here we will talk about the possible advantages of buying an apartment, the way of life and history here. Of course, our first priority is to ensure that you make the right choices for an advantageous financial investment!
Getting to Know Eyup: Why Is It Good Option for Real Estate Investment?
This region, which had a population of around 35,000 before it was recognized as a stand-alone district, gradually progressed to a population of 405,000 after 1936. The region continues to gain value every year due to the physical proximity it has with other districts of Istanbul that offer exclusive options in terms of history, tourism, and living space. There are 21 different districts and 7 different neighborhoods in the region, each of which has different real estate housing values. One of the main factors that make this region an attractive property investment point is, of course, the fact that it is located by the sea. Many foreign nationals who want to experience a luxurious lifestyle by the sea, against the most peaceful view of Istanbul, prefer Eyüp today.
See More: Property investment in Taksim
Life in Eyup: Spotlights and Advantages
Eyüp is one of the special regions where Western culture and Eastern culture are blended, aiming to preserve the many values ​​of traditional Istanbul. Let's take a look at what constitutes the cornerstone of the lifestyle of this region in a few basic spotlights:
Eyüp may not be considered a very colorful place in terms of nightlife. Instead, the region, which is preferred by those who want a domestic, quiet life, can be the choice of those who like to spend time in cafes or at home in the evenings.
Eyüp offers a pleasant routine option with the abundance of green areas in daily life, the pleasant view of the coastline and walking route.
One of the most important things that makes this place indispensable is that it is only half an hour's walk from Istanbul Taksim Square. In a crowded area like Istanbul, the ease of transportation and proximity to central points can be priceless.
Eyüp is located at a very accessible point to recreation areas, venues and indoor areas that can be visited by the family. Therefore, those who are looking for property investment in Istanbul options to really live in this city can consider this district among their options.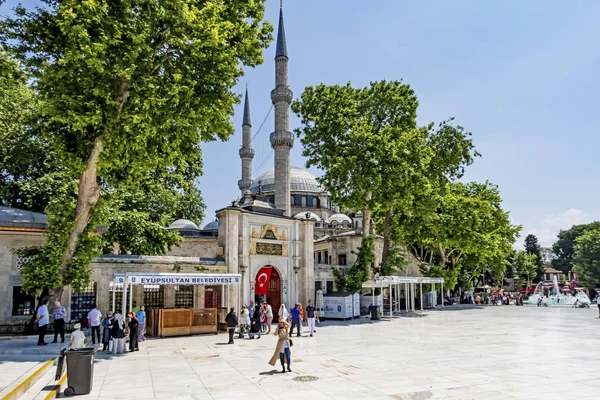 Real Estate Options in Eyup District
When trying to determine the value of a region in terms of the real estate sector, it is very important to evaluate the tourism, transportation, and living opportunities of the region. The presence of the metro line numbered M7 and the tram line numbered T5 creates a great advantage in providing ease of life here. Many studies say that Eyüp's real estate housing values ​​increase year by year.
Today, the average value of the residences in the Eyup region per 100 square meters is 440,151 Turkish Liras. Although this fee is not enough for you to obtain Turkish citizenship through property investment, you can achieve this right by evaluating several different options. To learn more about this topic, visit Property TR and get advice.
Average depreciation period of residences in Eyüp region is determined as 24 years.
The value of the residences in the region has increased by 61 percent in the last 3 years, and by 101.4 percent in the last five years.
Recent researches say that there has been a 1.5 percent increase in value in the housing market even in the last month.
Are you ready to discover more? Go to Luxury Property Investment in Turkey: Real Estate in Istanbul Opportunities and check out the housing investment options in other districts!